Hand embroidered dupion silk, 27 cm x 40 cm, 25 + 5 A.E., TN/DE, 2018
Commissioned by Leikela gallery
Based on the heart of the documentary experimental film [TUNIS] and the international artistic street light exchange IN BETWEEN LIGHTS, the textile limited edition BETWEEN LINES continuing their cross-cultural theme by focusing on intercultural connection, exchange and symbiosis.
BETWEEN LINES
Limited edition
25 + 5 Artist Editions
200,- EUR
incl VAT + shipping
BUY NOW
More details here.
"Artist Lia Sáile flew from Germany, Europe to Tunisia, North Africa to acquire unprocessed yardage of specific textiles to take back to Germany, where a bespoke tailor produced white art flags embroidered with two white  lines running partly next to each other, even crossing paths. These hand stitched lines depict the actual and virtually tracked seaways of two exchanged street lights, which travelled from Tunis to Cologne and vice versa in 2018 to take each other's place in the art in public space project IN BETWEEN LIGHTS in 2018.
The imported fabric on which the limited edition is based, is called dupion silk. This special material and its handling when creating these limited art objects, integrate the conceptual core in the process of weaving, traveling and stitching."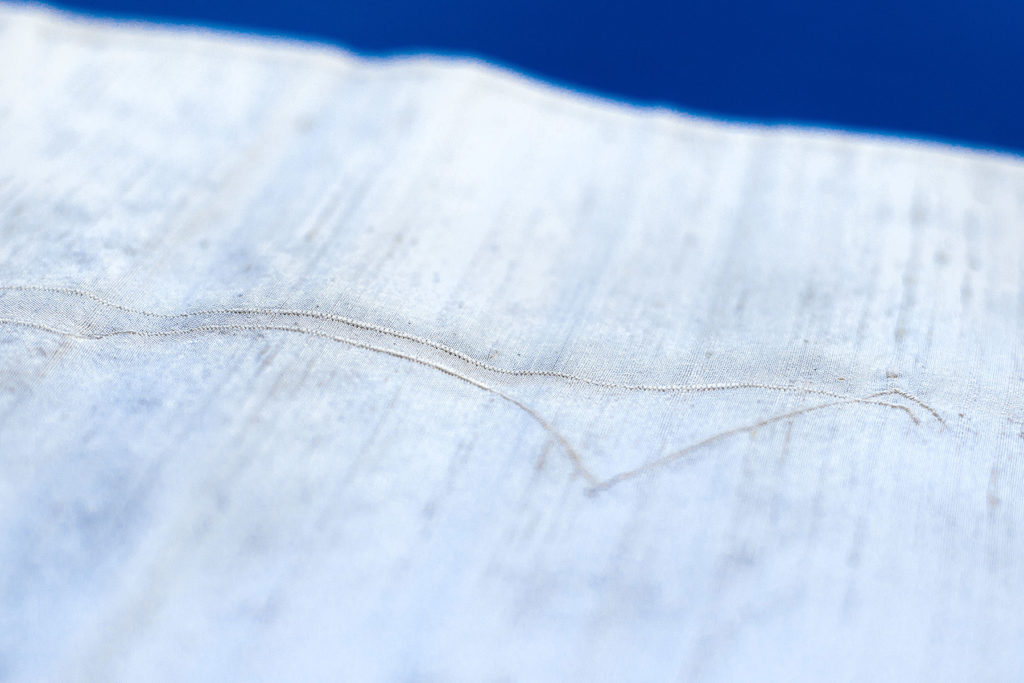 from LEIKELA
High quality silk must be drawn as uniform as possible, requiring a smooth and consistent yarn with few irregularities and defects. The so-called dupion silk on the other hand is unique as it interweaves a fine thread in the warp and a rough and coarse filament with uneven thick and thin areas in the weft. The irregular imperfect silk thread in the weft is spun from two or more worms simultaneously, forming entangled cocoons ­– so called double cocoons. Their strings are then reeled together. Because of its imperfections and defects the double cocoon thread does not unwind smoothly, tangling easily. The result of mixing different filaments is a tightly woven yardage. It strikes with an exceptionally lustrous shimmering surface, ruptured with coarse irregularities such as knots and uneven thickness, uniting their distinctive features. It creates a unique interwoven texture and aesthetic as well as a special surface feel combined with its distinct sound upon touch.
The unique embroidered dupion silk material forms the conceptual foundation of BETWEEN LINES. The white seaway lines stitched onto the fabric are not stitched up at the end, running out slightly on the invisible textile map. The flags' open North and South ends unravel into space with frayed filament.
Thanks to
Rahel Gorten, Esther Mauersberger
Exhibition
Leikela annual show, Leikela, Cologne, DE, 2019
Leikela annual show, Leikela, Berlin, DE, 2018